How to Choose a Used Car Dealership in Addison, Texas
Posted Monday, Jul 03, 2023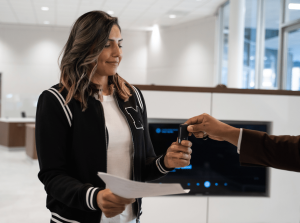 Are you thinking of buying a used car? The used car market is valued at a whopping $1.48 trillion and seems to be showing no signs of stopping. From hatchbacks to luxury sedans and everything in between, the sheer variety of options can make each visit to a used car dealership a bit of an adventure.
However, buying a used car requires you to take a leap of faith. For one, it's hard to predict how well the car will perform in the months and years to come.
This is why choosing the right used car dealership is crucial to a successful transaction where you get the most out of your money.
Gear up as we take you through 9 crucial factors to assess before choosing a used car dealership in Addison, Texas.
9 Key Things to Look for in a Used Car Dealership
1.  Do the Salespeople Listen?
The primary purpose of the salesperson is to close as many deals as possible while helping their customers find a car of their choice.
Usually, a quick call to the dealership will serve as a good way to gauge their emphasis on customer service. When contacting the dealership, take note of how they treat you during the initial shopping stage, when you are least likely to become a paying customer. Did they provide you with all the information you needed for making an informed decision?
If you book an appointment with the dealership, take note of how they treat you during the first visit.
2.  Review Their Reputation
These days, nearly every business has a digital presence on social media platforms and websites. Many used car dealerships also maintain profiles on third-party review platforms like Trustpilot and Yelp. Buyers - both the happy and unsatisfied groups - will share their experiences on review platforms.
These online reviews can make or break the reputation of the used car dealership, making customer service a top priority for their business.
When checking a used car dealership's reputation, it is essential to look beyond the ratings and assess what the reviewer is saying.
Pro tip: How the dealership responds to negative reviews is usually an indication of how they will deal with you in the future.
3.   Ask Your Friends
Chances are that your friends and family members have also bought used cars from the same dealerships. Check around with them to know which dealerships they used for their most recent purchases. The best recommendations usually come from people who have recently purchased a used car.
Ask your friend about their overall experience to see if they were happy or unsatisfied with the dealership. If they have reservations about the dealership, pay attention to what they didn't like. Were they upset that the dealership didn't accept their offer for the used car, or do they have a valid complaint that might convince you to seek an alternative?
Ask them if they will buy another used car from the dealership. This is the best way to gauge their satisfaction level with the dealership.
4.  How Long Has the Dealership Been in Business?
Dealerships with a shady past don't usually last for long. Buyers with bad experiences often make sure to get the word out that the dealership is not to be trusted, and their business fails because of a lack of new customers.
On the other hand, if the business has been around for a long time, it is reasonable to assume that they have cultivated a good reputation in their community and are getting plenty of repeat business. For obvious reasons, motorists will not return to a dealership that they don't enjoy working with.
5.  Vehicle Warranty
An important factor when selecting a used car dealership is the quality of the vehicles. For obvious reasons, these cars are not new, and you want to make sure they won't run into any major issues requiring expensive repairs. A great way to gauge this is with the dealership's warranty.
Dealerships only offer warranties on cars that they trust won't break down.
6.  Financing Options
When looking for a used car, most people will opt to finance their purchase instead of paying in cash. However, some dealerships don't offer a wide variety of financing options. They may only work with a few lenders who do nothing for motorists with a less-than-ideal credit score.
A reliable used car dealership will offer financing based on your budget with monthly payments that don't break the bank. Ally Auto Group offers a wide range of financing options, including discounts for buyers who are on active duty as well as veterans.
7.  Check Out The Range of Available Cars
Reputable used car dealerships almost always have a wide range of vehicles to choose from. This increases the likelihood of finding a used car that works just for you.
You can learn more about the models they have in stock by visiting their site. The website lets you pursue inventory from the comfort of your home. It is worth noting that the inventory will change regularly, so be sure to call the dealership about any cars that interest you before booking an appointment.
8.  Affordability
There are several factors that go into choosing a used car dealership, and affordability is the most important of them. Although the dealership website will give you a good idea of how much you will pay for the car, it's still unclear how this will translate into monthly payments if you go down the financing route.
However, you can get a sense of how competitive their prices are by comparing them with other dealerships. At Ally Auto Group, we provide highly competitive prices for used cars in Addison, Texas.
9.  Does the Dealership Offer Extra Perks
Some dealerships will also throw in a few extra perks to sweeten the deal. They may be free or heavily discounted. Examples include car washes, free essential maintenance such as tire rotations, and in-house financing, among others.
Wrapping Up
Regardless of where you go for a used car purchase, you should never rush the process. Always take your time to do your research. Collect as much intel about the used car dealership as possible before buying from them. Spending a little time doing research can go a long way in protecting your investments.
We recommend getting in touch with our experienced team, which is both helpful and friendly at Ally Auto Group. Click here to learn more.